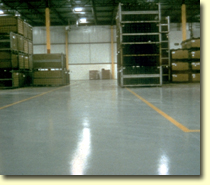 Self leveling 100 percent solids epoxy flooring

Welcome...
C.C.S.,Inc. has more than 20 years experience supplying industry with high quality epoxies, polyurethanes and novalacs. We have provided flooring solutions for the chemical, food, beverage, pharmaceutical, electronics, textile, paper products, printing, waste treatment and transportation industries. .

C.C.S.,Inc. is an independent company, which gives us the advantage of being able to supply our customers with the best products on the market to meet their individual and unique applications. We can provide a full range of services including material for inhouse patching, full turn key installation and consulting. .